Bar Slide Spindle Structure
Bar slide structure without LM guide or box slide. Resistant to chronological thermal displacement. Maintains high durability and vibration resistance and provides high accuracy. Cp ≥ 1.66 or higher as a comprehensive product finish accuracy.
The bar slide has a wider pressure area than the box slide. This means that it is effective in all directions leading to higher rigidity and greater durability. The highly reliable bar slide will remain operational for 15-20 years.
The left housing advances using hydraulic pressure and holds the cutter pressed against the right housing at a constant pressure. R-side servos precisely positions and performs an interlocking processes.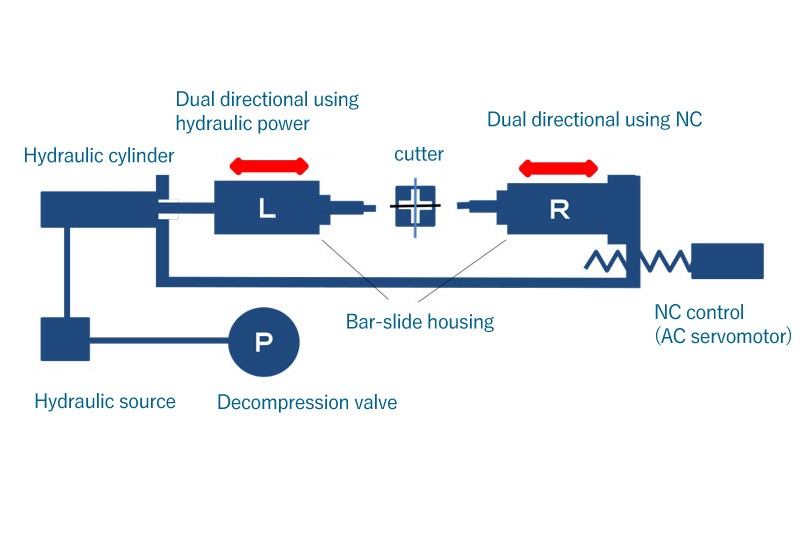 Short-term replacement of multi-variety of jigs
It is possible to replace multiple kinds of jig in a short time. The installation of jigs is easy with two bolts.
・U clamping jig(same class)takes only 5 minutes.
・Base set(different class)takes 10 to 15 minutes.
・Corresponds to the 660〜3000cc class.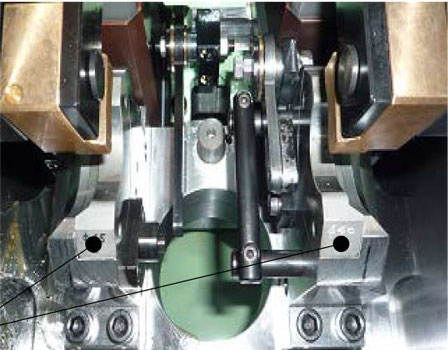 A Wide Selection Of Cutters
Cutters can be chosen from either blazing or disposable types. Chamfering is also possible with a combination of cutter chips. Coolant injection reduces surface roughness.
Our cutters main strength is that there is minimal instability during intermittent oil groove cutting.
Type of Workpiece supports Length 268~548mm, Diameter φ43~109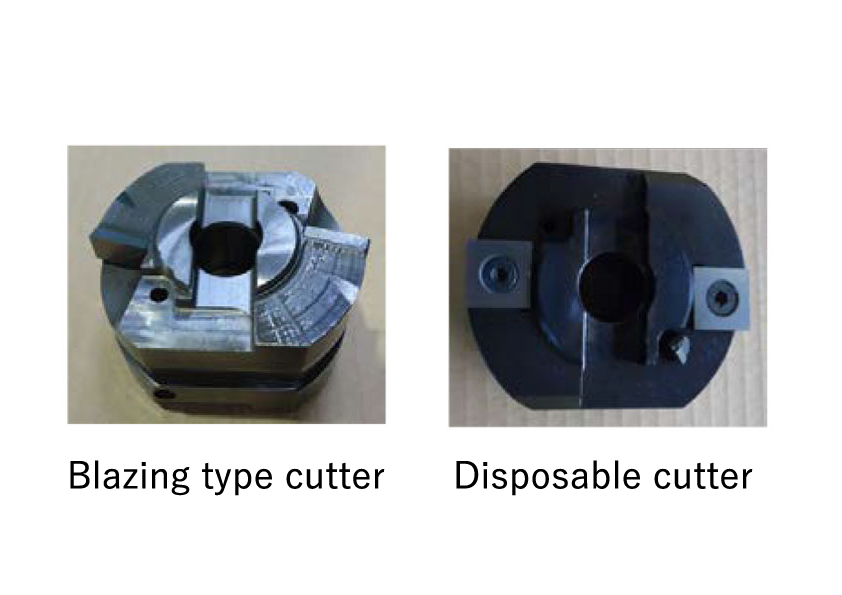 Flexible Cutter Replacement with Double Picker
Flexible cutter replacement with double picker. Easily detached by hand (takes approximately 5 seconds). There are 2 sets of pickers that can be used in the following ways:
・Can hold rough cutters and finish cutters.
・Different cutters can be held.
・Can be kept as a spare picker.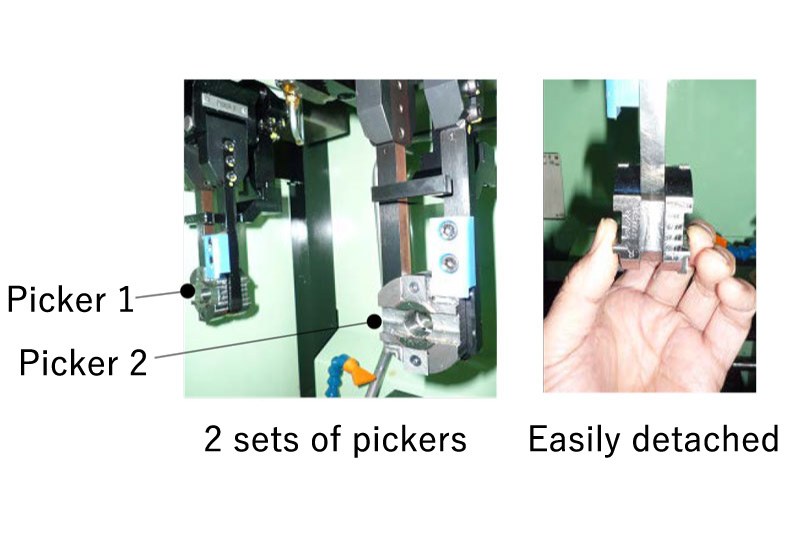 Thorough chips measures
Thorough chips measures. The cutting area is separated by a partition wall to prevent chip scattering. By cleaning and smooth chip discharge, we aim to improve machining accuracy and to reduce cleaning work.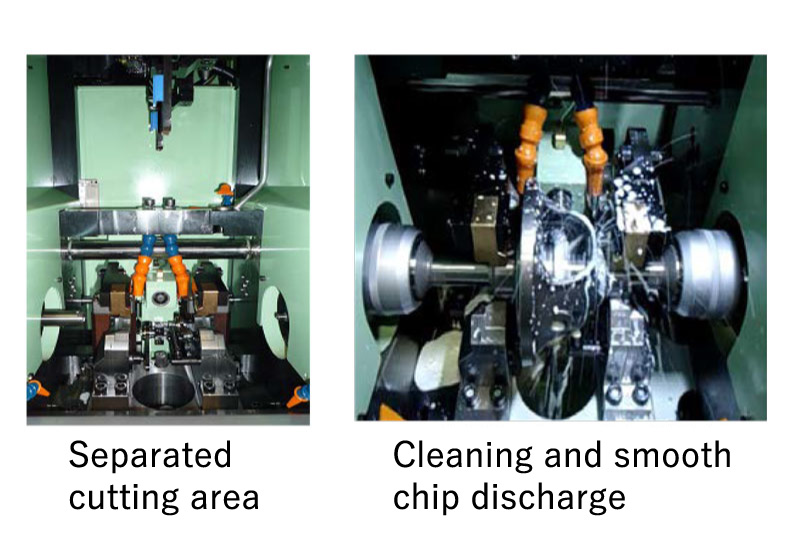 Spherical Surface(End Face)Cutting Machine DTH-I(DSH)
It is possible to process the sphere or end face inside the differential. Because it is a single machine, layout change is also easy.
Type
DTH-I
Unit size
Width 2890×Depth 2560×Height 2100mm>
(Include chip conveyor)
Machine body weight
3000kg
Work core height
1000mm
Work size
Flange diameter Φ130~210mm
(Equate 660~3000cc Jig change needed)
Power
AC200/220V 50/60Hz 3-phase
Rated power
11KVA
Main spindle motor
2.2KW 6P 2 Motors
Spindle speed
200~600rpm
(Gear change by inverter control)
Control device
NC controller FANUC 35i MODEL-B
AC servo motor FANUC β4/4000iS 0.75KW
Hydraulic power unit
(By NACHI-FUJIKOSHI CORP.)
2.2KW 4P
Coolant device
(By San Esu Industry.)
・Coolant total capacity 320L
・Coolant pump(Bed, Jig)0.4KW 2P
・Coolant pump(For coolant through)0.4KW 2P
(Delivery pressure 1MPa)
・Coolant filter (Filtering accuracy 20μm)
Options
■Air Zero Sitting Detecting Device, Air Chuck Sensor(By SMC)
■Cutter Tool Chip Contamination Detection Device(By Magnescale Co., Ltd.)
■Work Different Varieties Detection Device "Monosashi-Kun"(By SMC)
■Outer stage replacement box
■Multi Counter(By OMRON)
Corresponds to Product Counter, Tool Count etc.(Max.9ch. can be hold)
■Automatic Front Door
■Area Sensor PJ Series(By KEYENCE CORPORATION.)
■Mist Collector 0.4KW(By Showa Denki)
■Coolant Oil Skimmer(By Koike Engineering and Service Co., Ltd)
■Coolant Oil Meter(By Koike Engineering and Service Co., Ltd)
■Built-In LED Light
■Signal Tower
■Washing Gun (Coolant)
■Air Blow Gun
■Paint in Colors
And so on. Please ask details.