Differential Case Multitask Turning Center CDM40V-DA16
This full sphere differential case multitask turning center can integrate more than 10 processes with one chuck.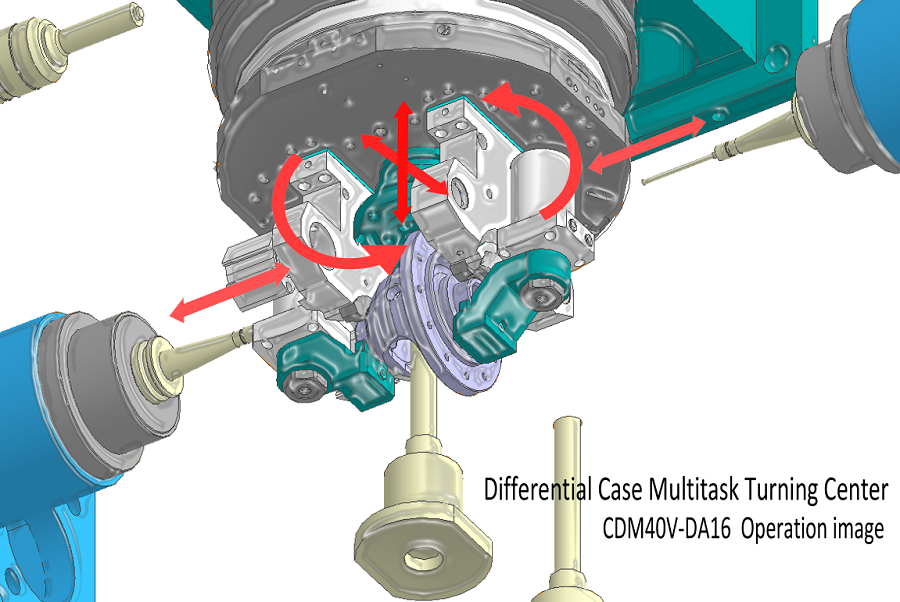 Integrated JIG comprising
Changeover is possible in a short time
Supports a wide range of vehicle types by exchangings jigs.
Highly compatible with our machining center.
Fixed opposed Spindles&Tool Magazins
High passing precision.
16BT40 Tool Magazines.
Equipped with high versatility jig and Tool
Special tool for full sphere differential case that considers
hight-speed machining and tool life.
High quality and high accuracy.
(PAT.3622351,PCT/JP2017043349)
Place a turning in the center
Jig for NC control of front/rear Y axis/up-down Z axis+rotation is placed in the center.
Hight precision machining with slide all-axis scale control.
(PAT.6546355 , PCT/JP2018017388)
Transport and various options
Work stocker,loader,Workpieces can be attached/detached
by the front-running robot and a spherical cutter can be inserted.
FANUC
SYSTEM
Spindle
Right/Left-16BH
NC-Control device
FANUC 31i
Spindle motor
FANUC βilP12/6000 5.5/7.5kW
Spindle Speed
6000 min
Spindle Taper
BT-40 Spindle nose taper
ATC
Type
Double-ArmType
Tool storage
Random pot type
(16 tools)
Tool Change time Too-Tool
2.5 sec
TURNING
SPINDLE
Built-in Servo motor
DIS 500/1200 12.1kw
Spindle speed
600 min-1
ATT
Cutter Loading/unloading time
11 sec
Weight
8500kg
Size
3700mm(W)×2480(D)×2775(H)
AXIS
STROKE
FEED
FANUC
servo Motor
X(R/L)AXIS
640mm
60m/min
αis22/4000 4.5kW
YAXIS
472mm
2.2m/min
αis22/4000 4.5kW
Z AXIS
562mm
1.4m/min
αis30/4000 5.5kW